There are so many email clients in the market which you can use but Outlook is one of the most popular ones. It is an email client that comes along with Microsoft office suite. You can also download it separately because Outlook has its own benefits which makes it different from other email clients in the market.
If you post an article so visit us at https://thetinytech.com/write-for-us/
Now, users have reported various issues in connecting to their accounts and thus they are unable to access them properly. Some of the common issues include login/logout problems, receiving or sending error messages, not able to send or receive emails, etc., when using Microsoft Outlook. Most of these issues are related to corrupted PST file issue often due to unexpected system shutdowns while working on MS Outlook, virus attack, hardware malfunctioning etc. This corruption leads to improper working of Outlook.
However, these problems can be easily solved by simply using Stellar Repair for Outlook tool because it offers remarkable solutions and guarantees 100% error free working of the software. It is a perfect utility that helps in recovering important emails and other items from corrupt PST file and saves them in new files successfully. By using this simple repair process you can fix all your issues with ease when using MS Outlook email client with complete convenience.
Key Features of Stellar Repair for Outlook are listed below:
• Recovers permanently deleted or lost emails/items
• Get back encrypted PST file
• Repairs severely corrupted KB size PST files
• Brings back stopped outlook services
• Maintains folder hierarchy while saving repaired data
• Provides interactive & easy to use graphical interface
As we have tested the software in our offices, we find it very efficient and easy to use. You can repair your MS Outlook by using this utility in few simple steps even if you are a non-technical user. Here is the detailed process to run Stellar Repair for Outlook: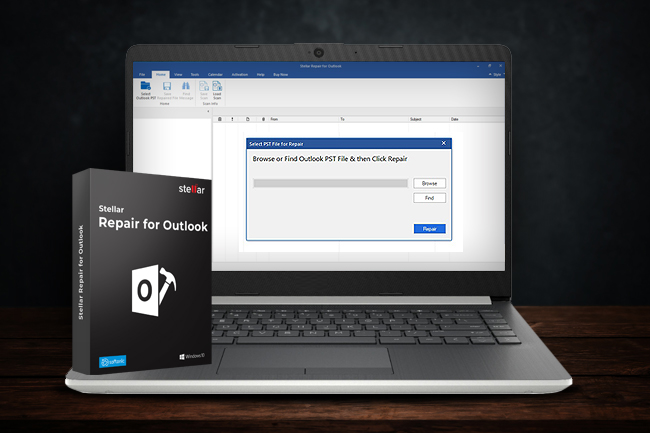 Steps To Run Stellar Repair For Outlook:
1) Download and install this tool on your system by double clicking on setup file after downloading from its official website.
2) Launch the software and select 'open application' option from main screen as shown in screenshot below:
3) Once the application has been launched, you need to specify location of PST file that needs to be repaired through browse button. The complete path will appear once you have selected directory of PST file.
4) After specifying the location of PST file you need to select your desired language and then click on 'next' button.
5) The tool will detect corrupt Outlook files after applying deep scanning method through default scan option under tools tab. You can also change scan options according to your requirements by selecting custom scan option.
6) Preview all the recovered mailboxes in respective tabs available for each mailbox type like inbox, outbox etc., shown in left window pane after completion of scanning process. If at any point, you fail to find required data then use filters option present in left bottom portion of main interface as shown below:
It will help you to view only desired folders/items that are found in corrupted PST file.
7) At last, save the scanned result to a new file by clicking on 'save' button which is available at top right corner of main window.
8) If you are content with scanning results then click on close button otherwise again re-apply scanning process through start scan option.
Thus you can repair your corrupted PST file with complete accuracy in time saving manner even when you are using MS Outlook application for first time! This software is compatible with almost every version of Windows OS like 10/8/7 etc., 32 bit & 64 bit operating system and thus it provides flexibility to every user in tackling various issues related to outlook email client. So download Stellar Repair for Outlook tool now and get rid of all sorts of errors while working on Outlook application!
Recover Deleted Mail Items From Outlook PST File
Stellar Repair for Outlook is trusted and dependable utility to recover deleted mail items from Outlook folders, outbox, sent mail folder, drafts in few simple clicks. It recovers emails in .pst files created in Microsoft Outlook 97-2016 for Windows, Linux & Mac OS. Download…
Recover Encrypted Mail From Corrupt PST File
Encryption protects you email data against unauthorized access by using strong encryption algorithms like 20 algorithm (AES) which can only be unlocked with the original password. Stellar Repair for Outlook Password Recovery software uses brute force attack to recover the password of encrypted PST file (.pst).
Stellar Repair for Outlook helps you to scan, view and recover the content of corrupt PST file. It can recover all email components including attachments, embedded images, original formatting and hyperlinks etc. The tool takes few minutes to extract data from PST file and converts into new PST/EML/MSG/RTF/HTML/PDF for user access.
Possible Reasons due to which Outlook Emails gets corrupted:
• Corruption in header section – A header is a predefined segment present at beginning of every Outlook item i.e., emails, tasks, contacts etc. This segment includes information such as "From", "To" or "CC" fields etc., So any damage caused onto this header results in loss of complete mail items from Outlook.
• Header structure damage – Corruption in header can be caused due to several reasons such as virus attack, system shutdown abruptly, heavy memory allocation, loss of power supply or any hardware failure etc.
• Corrupt PST file – Outlook for Windows uses PST file as offline storage to maintain the data availability even when MS outlook is not connected with Exchange server. The user can easily access their emails, contacts and other mailbox items but a single error occurring on Exchange server leads to corruption of entire PST files which results in complete data lose from Outlook application.
How Stellar Repair for Outlook works?
The outlook pst file recovery software quickly scans the corrupt PST file and extract all email components including emails along with attachments, embedded images, formatting, meta data etc. It quickly scans the corrupt file and extracts all emails in it to new healthy PST file with complete accuracy even when you are using MS Outlook application for first time.