THE ORIGIN OF YTS
The torrent scene is complex in many ways. Add to that the systematic shutdown of popular torrent sites and the appearance of clones and you get a feel for the jungle that reigns there.
And the best example of this mess is the YTS site and the dedicated group with YIFY. The YIFY group started with the initiative of a person named aXXo who was a known ripper in the community.
A ripper is someone who rips content from DVDs, captures movies in theaters for posting to torrent sites. The peculiarity of aXXo is that it could offer a high definition movie that weighed only 700MB. In 2010 it was a revolution and it paved the way for mass hacking.
After aXXo, YIFY continued on this path by focusing on recent films, but of high quality. In 2011, the piracy scene was dominated by CamScreen which was low quality content.
YIFY was a game-changer and in a few months he launched a site called YTS.to. The catalog featured over 4,500 films in high definition and it didn't take long for it to hit the Hollywood sights.
In 2015, the MPAA reached an amicable agreement with the operators of YTS.to and the site closed permanently.
The impact of YIFY / YTS has been monstrous, as for several years all of the torrents on Pirate Bay or ExtraTorrent were signed by the group.
The closure of the site left an unprecedented void and it also gave apps like Popcorn Time a blow.
YTS.AG, THE YTS CLONE
When such a popular site closes, then it is obvious that profiteers will step into the breach. A few months after the closure of the first YTS, we had YTS.ag landing on the web claiming to be the successor to the first site.
Claims denied after some research, because we understood that it was just a site that wanted to attract visitors to the old YTS.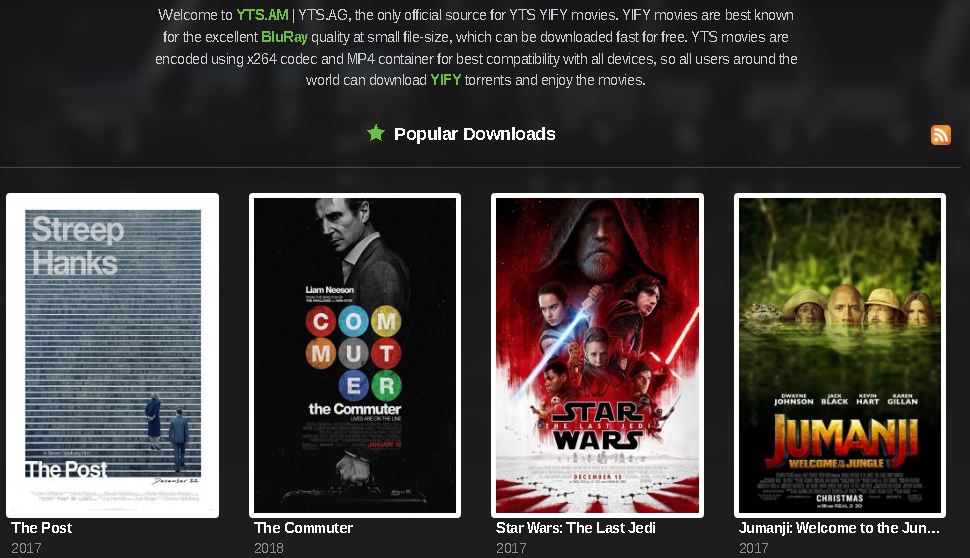 Caught hand in hand, YTS operators said they were not the direct successors, but wanted to resuscitate the spirit of YTS.
But a lot of big torrent sites didn't want to be associated with it because of the questionable practices. Yet today, YTS.ag is still active, but recent content is rarer.
Other YTS clones also exist and one can mention YTS.io, but it is mainly streaming sites with a lot of missing links and advertising incentives. For this article, we will focus on YTS.ag. The latter is a public tracker torrent that only offers movies.
We have a search box at the top of the site and another search form when we click on Browse Movie. The latter search is more efficient than the quick search.
ANONYMITY ON SITES LIKE YTS
As there are so many YTS clones, it is absolutely crucial to be very well protected when surfing a site. Before even accessing it, you need to have a VPN like Cyberghost , VyprVPN , Hidemyass , but also ad blockers and anti-trackers.
We also advise you to install a good security suite to avoid unpleasant surprises. These clones are not as reliable as the original YTS and therefore you must navigate them at your own risk.
WHAT ARE THE DOWNLOAD TOOLS NEEDED FOR TORRENTING?
To download a torrent, you need a BitTorrent client like uTorrent, Vuze, or Transmission. If you are a novice, choose uTorrent, because it can be installed in a few minutes on any platform and it can be easily configured.
As YTS only offers movies, the Video Lan (VLC) player will be more than enough to watch them. Some torrents are included with subtitles, but you can also find specialized sites that offer French subtitles. For example, the OpenSubtitles site is the reference for movies.
In addition to the BitTorrent client, you must also have a VPN application. Whether you are using a PC or a Smartphone to download to PC, a VPN that you can find at Cyberghost , VyprVPN or Hidemyass is mandatory.
Since rights holders constantly monitor sites like YTS, organizations like Hadopi could identify you in seconds if you're not using a VPN.
The point is that if you upload content to YTS, each file has a marker set up by the copyright owners (during the creation of the film). This allows the beneficiary to trace the path of the file on the web.
And if you download it without protection, then the beneficiary will see your IP address and send it to Hadopi who will hasten to trigger the graduated response. Whatever happens, use a VPN.
It is not expensive (a few euros per month) and you will have peace of mind on all torrent sites. A special mention to Hidemyass who has remained the benchmark in this sector for years.
This provider has the largest web of servers in the world, affordable prices and high performance speed as well as a good privacy policy.
UNDERSTAND THE TECHNICAL TERMS OF TORRENT
You will often come across the following terms when downloading a Torrent and it is important to understand them.
Leecher – Designates the user requesting the file. When you upload a movie to YTS, you are a Leecher.
Seeder – Once you have downloaded the movie and made it available to other users on the network, then you become a Seeder, ie a person who shares the file. For the torrent to survive, it is essential that everyone gives as much as they receive. With the trend of streaming sites, we realize that sharing is very asymmetric. To determine if a torrent file is of good quality, then the number of Seeders must exceed that of Leechers by a factor of at least 3.
Tracker – This is a term for a torrent site. A tracker can be private and that means it takes an invite to register or public like YTS.ag where anyone can download directly. We also have semi-private trackers where we must respect the strict ratio rules to download in good conditions.
Magnet – This is the link you download from sites like YTS that will allow your BitTorrent client to download the movie you want. The Magnet link is preferable to a torrent link. The latter is centralized and attached to a site. This means that if YTS.ag goes missing for some reason, then the file will be unusable. On the other hand, the Magnet link directly connects users to each other and the file will still be functional even if the link disappears. Always choose the Magnet link, because the Torrent format is obsolete.
UNDERSTANDING MOVIE FORMATS ON A TORRENT MOVIE
If you download any content to YTS, you will often see the movie quality referred to as CamRecorder, ScreenCAM, DVDRIP, or HDTV.
CamRecorder – This is a movie that has been hacked straight into the cinema using a smartphone or a camera.The quality is the lowest and the sound is often abysmal due to the echo from the room . Avoid in most cases.
DVDRIP – As DVD versions come out soon after theatrical release, the rippers extract the contents of the DVD to put it on torrent and this is the origin of the YIFY / YTS group. The quality is excellent, but the file is often quite large.
BDRip or Bluray – Movies in Blu Ray quality, the best available, but you need a great connection to download the 5 to 15 GB that makes up the file.
YTS specializes in very compressed formats, but which preserve good quality. So, a movie encoded in 720P resolution weighs around 700MB and most YTS movies use this format. The bonus is that you can have Blu Ray quality for minimal weight.
HOW DO I UPLOAD A FILE TO YTS?
You can download a movie on YTS in a few minutes. Go to Browse Movie and type the name of the movie into the search bar. We took the example of Forrest Gump: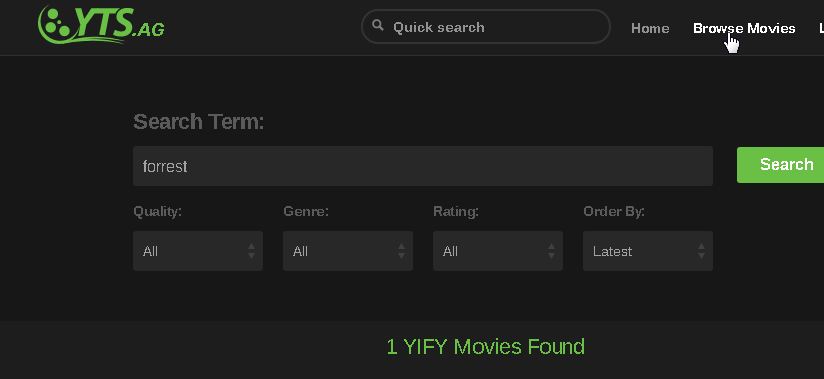 The Torrent file will be displayed: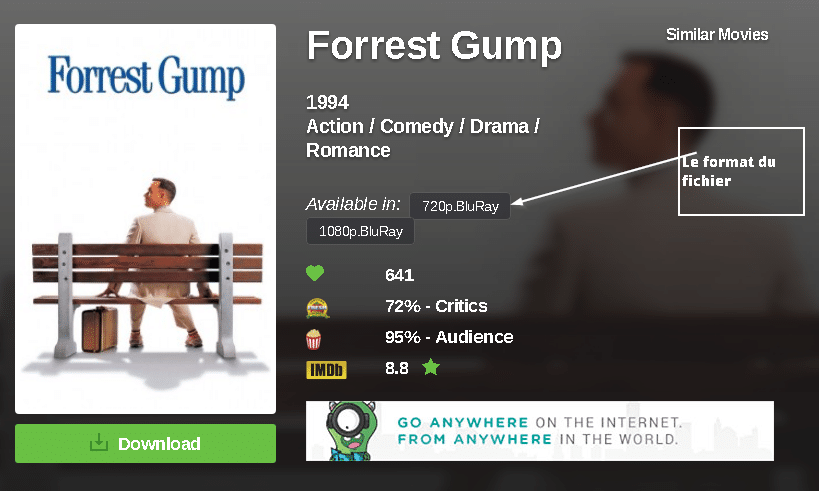 The most important information is the type of file format. Here, we see that the film is available in 2 qualities, 720P and 1080P (Standard and High Definition).
Unfortunately, YTS does not display information from Seeds and Leechs which prevents us from determining the reliability of the torrent and if the download will be fast. Click on the Download button and choose the quality you want: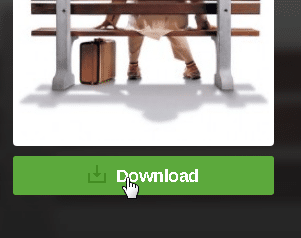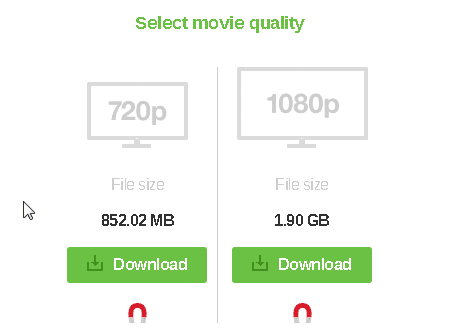 Click the magnet image at the bottom of the Download button to download the Magnet link. As soon as you click on it, your browser will warn you that it is a Magnet link, click on Ok and if you have a BiTorrent client, it will start immediately.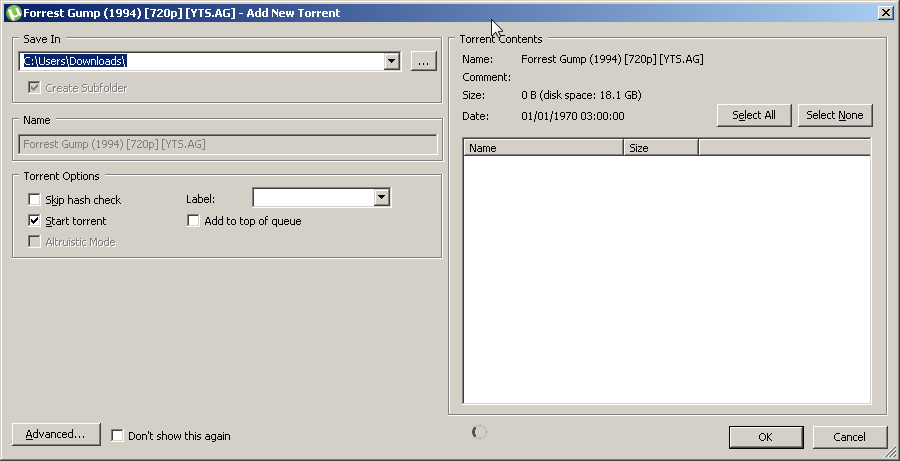 Wait a few minutes for your BitTorrent client to search for the file's Seeders and the download will begin. Note that a VPN like Cyberghost , VyprVPN or Hidemyass can improve download speed, as many ISPs restrict downloads to Torrent.
The operator Free is particularly strict on this point in France. As YTS.ag has been blacklisted by many big torrent sites, its catalog is not what it used to be. He just recycles what he finds, but it's a real gold mine for old films from the 1960s and 1970s.
In addition, its compression is one of the best on the market and we can have a high definition film for the weight of a simple CD.
Be careful, we are not saying that the site is abandoned, because we can find films that were released just a few weeks ago, but given that it favors quality, we will have to wait a bit.
WITHOUT VPN, FORGET ABOUT TORRENT!
If you don't use VPN then forget about downloading from torrent sites. It has been said many times, but YTS clones can reveal nasty surprises and it is crucial to be well protected.
Among the best VPN providers we can mention Cyberghost , VyprVPN or Hidemyass is really ideal if you are looking for the fastest speed, but it is more expensive than the other 2.
Cyberghost offers you absolute security with its double encryption which goes through several servers. However, NordVPN's double VPN can slow down your torrent downloads.
As for Hidemyass , it is a supplier that offers an excellent compromise between quality and price. We can connect from servers all over the world, a 12 month subscription gets you a 50% discount and we do not know of any users who have been compromised thanks to its privacy policy which keeps the minimum information.
PRACTICAL LINKS: